Our Team
Farming is in the blood of the Oates family, with Cath and Russ both growing up on the various family farms in the Margaret River region.
Cath decided to study winemaking at Roseworthy and went on to make wine in Australia, Italy, New Zealand and the USA, including heading up the iconic wines of Mud House in New Zealand and Plantagenet Wines in Western Australia. Winning multiple awards and recognition for her wines over the last two decades then returning to Margaret River to focus on making Oates Ends is the fulfillment of a long held dream.
Russ became involved in vineyards after a stint working with a local vineyard contractor in the 1990's. He soon decided to go out on his own and started his successful vineyard management business, looking after some of Margaret River's best premium vineyards. All of this knowledge has been put into Wilagri vineyard, supplying fruit to some top Cabernet producers in the region and now capturing it in the Oates Ends wines.
Stu and Sue have been farming the area since they met and married in 1966. Stuart comes from many generations of South West farming stock. Sue was a city girl but soon learnt to draft a sheep with the best of them. Stuart is the jack of all trades, sometimes helping out in the vineyard or with the cellar work, always on the land somewhere if the sun is up.
---
Cath, Sam and PKOwner / Winemaker
Passionate about making wines that honestly speak of where they come from, that are elegant and ageworthy.
Russ and RubyWilagri Owner / Grapegrower
The practical grapegrower, growing high quality fruit and maintaining the environment he works and lives in.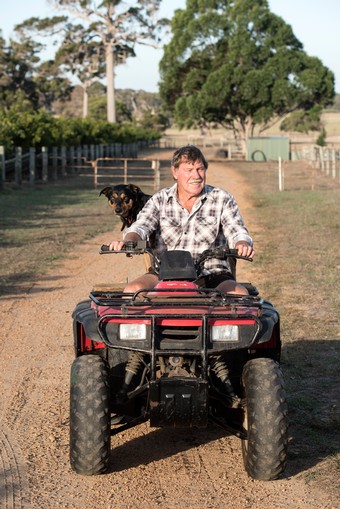 Stu and BonnyJack of all Trades
Oates Ends would grind to a halt without him, we're not sure he'll ever retire.